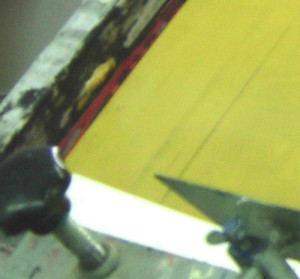 CMR-413.W Antigraffiti Clearcoat
CMR-413.WM Antigraffiti Clearcoat (matt)
Due to its charateristics CMR-413.W resp. CMR-413.WM are very suitable for screen printing applications.
The translucent CMR-413.W is used as protection film of rigid materials. Especially on alu-dibond and aluminium and other metals this clearcoat achieves very good properties concerning adhesion, scratch restistance and UV-protection. Apart from this the product is suitable as a clearcoat for printed and unprinted plastics.
CMR-413.W has outstanding properties for using screen printing application. For example clients use size-90-sreens. Therefore the viscosity (40-50 sec, 4 mm cup) of the mixture between lacquer and crosslinker (2:1) is perfect without any dilution of water.
Further information about: CMR-413.W, CMR-413.WM
and the corresponding product descriptions and datasheets you will find within the download area or directly under: info@cmr-coatings.de